Export to other market places
There are many different machine market places. And to maximize your chances of selling, you want to advertise on as many different websites as possible.
But it is a crime to place your stock on all those websites separately. And even worse to maintain it: delete ads, adjust data, change photos, post videos, etc. If you change it in one place, you naturally want to change it everywhere. But that takes a lot of time and effort.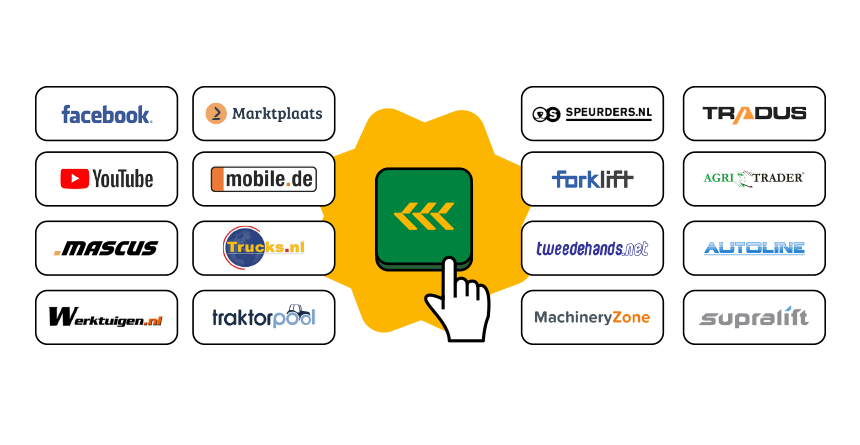 Manage your ads from one central location: Machinetrack
With Machinetrack you can automatically transfer your stock to other machine market places and manage it from one central location. So:
Create Ads
Delete Ads
Change Ads
Add promotions such as uplift and top advertisement
Category selection
Machinetrack thus becomes the dashboard for all your online advertisements.
We support almost all machine market places. Below is the list:
2dehands.be
2dehands.be Admarkt
Aanbodpagina
Agri Trader
Agriplaats
Autoline
Bau-pool.com
CampersCaravans.nl
Eigen website
Europa Landbouwmachines
Facebook Business
Forklift International
GasPedaal
LeaseProf
Machinery Planet
MachineryPark
MachineryZone
Machineseeker
Machinio
MarketBook
Marktnet
Marktplaats
Marktplaats Admarkt
Mascus
Mobile.de
Plant & Equipment
Showroom
Supralift
Traktorpool
Trekkerweb
Truck1.eu
Trucks.nl
Trucks4u.com
TruckScout24
Trucktrader.nl
Tweedehands.net
YouTube
Why advertise on Machinetrack?
The largest (free) machine marketplace in the Netherlands
Free unlimited ads placement
Add movies, photos, and PDF documents for free
Full control over your ads
Import from other market places and your own website
Export to other market places and your own website
Choice of 4 packages, including 1 very extensive free package
Subscribe now = place ads immediately!
International reach
Have your own website made by Machinetrack, without any hassle!